3 Immediate Benefits of Going Green
Most people don't just wake up and decide to go green. It's a gradual decision and process that comes from a growing awareness of how rapidly things are changing – and that we are reaching the point of no return when it comes to slowing global warming, at least in our lifetime.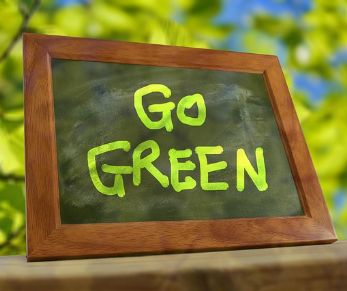 Yes, it can be done, but things need to change starting yesterday. And that change starts with us.
If you're here, you're probably experiencing a strong desire to do more. Maybe you're meeting some resistance from friends and family, or maybe you just need some reassurance that what you're doing will make a difference.
I promise you … it will, and it does.
To give a little support and encouragement from a chick who's striving to go green and live more sustainably every day – and perhaps offer a few rebuttals to sling at your comrades who say what's the point? – here are three immediate benefits of going green.
This post might contain affiliate links, which means I may get a commission, at no additional cost to you, if you decide to purchase from one of the recommended companies or products. Please read the full disclosure for more information.
Top Benefits of Going Green
1. Save Money
Living in a way that's green and sustainable sometimes means buying a smorgasbord of eco friendly items, whether they are cosmetics, household goods, or even automobiles. But don't rush into purchasing a bunch of stuff right out of the gate. Especially if it will mean throwing out perfectly good items.
Over time, you will likely transition into more green products, but for now, relish the opportunity to save money.
You can do this by choosing to do any of the following:
Carpool. When you share a ride with someone else, you'll use less gas.
Adjust your thermostat. Turning down your thermostat by even one degrees can save you 3% on your electric bill. While it doesn't sound like much, all those 3% reduction in energy costs add up over time.
Reduce your water usage. All this takes is becoming more conscious about how you use your water, and how much you use. For instance, use a less forceful stream of water when washing dishes, and cut your shower time by just a few minutes. Turn off the water while brushing your teeth, and instead of dumping pasta water down the drain, use it for household plants. There are also devices you can buy to catch rain water which can then be used to water your garden.
Start composting. Have you been staring at that empty space in the back yard, wondering what in the world to plant? It's too small for a tree, and too big for a few flowers. Well have I got the perfect solution! With very little effort, you can cut down on waste, save money on trash bags, and have some lovely humus to spread around your garden come spring time. And you don't need a lot of space to compost if you have to do it indoors.
Switch from paper to cloth. The next time you run out of paper towels and napkins, buy cloth ones instead. Initially, they might cost slightly more than paper, but if you're careful to invest in ones made of recycled materials that can be washed and reused, you'll save a bunch of money in the long run. The ones pictured here are similar to the ones I use, and they've saved me a lot of dough.
Rent, don't buy. Otherwise known as the "sharing economy," this practice allows you to rent items that most others purchase outright. The most well known example of this is Airbnb, but when it comes to partaking in the green life, we'll talk about the fast fashion industry. There are a number of online retailers that allow consumers to rent clothes for a fee, protecting landfills from excess waste while possibly saving the heavy shopper from overspending. If you're going to spend money on the latest fashion, you might as well try to do it in an eco friendly way, right? Or better yet, thrift!
Eat less meat. Pound for pound, meat is generally much more expensive than vegetables. And I know what you're thinking. "But Liz, what about protein?" You get protein from plants too, but if you're that concerned about giving up meat one or two nights a week (or even permanently) – which lowers greenhouse gas emissions, saves animals and water, reduces air pollution, and frees up land mass to feed the hungry – buy a can of beans. They're packed with protein, fiber, and iron.
Bigger (and Maybe More Bougie) Ways of Jumping Into Green Living
I know I said don't rush out and buy a ton of eco friendly products, but if you've got a chunk of change burning a hole in your wallet, you may want to consider installing solar panels. Converting energy from the sun into usable energy for your home, solar panels are by far the cleanest and purest form of renewable energy out there.
They're not cheap, but the overall cost can vary. According to Consumer Affairs, you can get a small system for around the $5,000 mark, and that's certainly a good place to start. But the average price is generally higher.
The government currently has federal incentives in place to help offset the costs. According to Market Watch Guides, you can claim up to 30% of the system cost as a tax credit, but that amount will dwindle over time, so now is the time to take advantage of these incentives.
Solar panels can save the average consumer up to 75% on their energy bill, but that varies greatly by location. Because of that, it can take anywhere from 5-15 years to start recouping your investment.
But hey, if you're young and plan to stick around wherever you have them installed, it's a great way to save down the road while doing something good for the planet by investing in renewable energy sources.
2. Improve Mental Health
The global risks of climate change are becoming more and more present. They're also much more understood, and it's kind of a blessing and a curse. A blessing because we need to be aware of what's happening right under our noses, but a curse because even though knowledge is power, there's that whole concept of "ignorance is bliss."
In 2021, the World Economic Forum outlined the risks we face by continually failing to take action. From massive environmental damage caused by storms to economic destruction, we are on the cusp of needing to make changes now or else.
And these risks are keeping some people up at night.
According to the IPCC, a growing number of people are experiencing stress, anxiety, depression, and even suicidal thoughts and behavior because of the ever growing threat to the planet and our future.

So many feel powerless to make a difference because those that are in power, i.e. government officials, continue to ignore the warnings because all they seem to care about is lining their pockets.
There are also other mental health issues such as feeling guilty over past behavior, and being bombarded with negative "doom and gloom" posts on social media.
But here's the thing. We are not powerless, and we can combat "doom and gloom" with positive action.
That's why I believe that one of the numerous benefits of going green is an improvement in mental health.
It starts by realizing you alone can't change the world, but every little thing you do adds up. Talk to friends and family about making small changes too. Invest in sustainable gifts for birthdays and holidays-preferably ones that will benefit your acquiantances – and point out the positive features.
Don't beat yourself up over past behavior. Remember, evolving is something we are supposed to do as humans. If you have children, you're setting an example for them. Also, take pride in the things that you are doing every single day. The journey of a thousand miles begins with one step.
3. Reduce Your Carbon Footprint
Slashing your energy consumption, cutting back on waste, and investing in sustainable products all work together to reduce your carbon footprint and carbon emissions.
And the results are immediate. You don't have to wait months or years to help the planet.
Frequently Asked Questions About Green Living
What does the expression "going green" mean?
When people say they are going green, it means they're making changes to their lifestyle that consider the environment, the future of the planet, but also considers the people that inhabit the earth already. Umm, that's us, guys, in case there was any confusion.
Most people think this means recycling, giving up plastic bottles, reducing their energy consumption, or using paper bags instead of plastic ones. But there are so many other ways to live a more "green" lifestyle.
You just don't have to do it all at once.
What are some other simple and affordable green practices?
I've outlined some great ways above. Think about cutting down on plastic, researching environmentally friendly household goods, appliances that use less energy, and switching – over time – to products that use less natural resources.
Support local businesses, avoid things with harmful chemicals, look into recycled products, and do what you can to just consume less overall.