Best Vegan Mattresses of 2023
There was a time I assumed all mattresses were vegan. I never would have thought that animal products would be hiding inside something we sleep on. But I was oh-so-naive back then. If you're surprised to learn that not all mattresses are vegan, that's okay. Because I'm going to give you the low-down on all the best vegan mattresses to help you sleep like a queen ~ or a king if that's your thing.
This post might contain affiliate links, which means I may get a commission, at no additional cost to you, if you decide to purchase from one of the recommended companies or products. Please read the full disclosure for more information.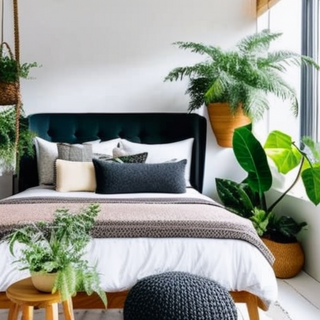 Frequently Asked Questions about Vegan Mattresses
What is a vegan mattress?
A vegan mattress is a type of mattress that's made without any animal products or animal derived ingredients like wool, silk, feathers, etc. Instead, they're made with cotton, bamboo, latex, and so on.
Just like eco friendly mattresses, vegan options are becoming more commonplace as more and more people are seeking to live more sustainably and purchase non toxic alternatives to traditional mattresses. They're often made of natural and organic materials that are sustainably sourced, and they're produced using eco friendly production processes that have minimal environmental impact.
In addition to being animal friendly, vegan mattresses also offer a number of benefits for sleepers. Many are made of materials that are breathable and moisture wicking which can help prevent overheating. They can also be hypoallergenic and resistant to dust mites, which is highly beneficial for those with allergies or respiratory problems.
Are vegan mattresses more expensive than regular ones?
Vegan mattresses vary in price, and overall, they are not necessarily more expensive than traditional non-vegan ones. I've come across a number of big names that are much more costly than some listed here.
But some of these options might be more expensive than what you'd expect. Keep in mind, however, that they're made with better materials, and many of them have incredible warranties, so that's something to consider. Most seem to offer financing too.
Overall, I'm confident there's a vegan mattress that fits nearly anyone's budget who's mattress shopping.
Are vegan mattresses also non-toxic?
Just because a mattress is labeled "vegan" does not necessarily mean it's also a non-toxic mattress. You still have to do a little research to ensure there aren't any harmful chemicals.
What kind of chemicals do you need to be concerned about? Well, most commercial mattresses have something we don't want or need that could be considered unsafe but here's a quick list:
Chemical fire retardants. No one wants to go up in flames while they sleep, but there are non-toxic options that offer the same protection and peace of mind.
Toluene, formaldehyde, & benzene. These are used to preserve and protect your mattress, but they off-gas over time, giving off VOCs (volatile organic compounds) which can be carcinogenic or disrupt hormone production.
Polyurethane foam. In and of itself, it's not toxic, but this material is used in memory foam mattresses, and they are known to off-gas. A lot of people argue that the amount they give off is so small that it doesn't matter, but why expose yourself to something if you don't have to?
Vinyl. Often found in crib mattresses to make them waterproof.
Luckily, I've done the hard work for you, so you can find a non-toxic vegan mattress here that suits your needs.
But if you're hunting for a brand not listed here, and you want to be sure it's non-toxic, look for certifications like GOTS, GOLS, EcoINSTITUT, CertiPUR-US, Greenguard, and MadeSafe.
What's the least toxic mattress?
There are several awesome non-toxic mattresses that are also vegan, but my absolute favorite and top recommended selection is the Avocado Vegan Mattress. Scroll down to read all about its features, pricing, benefits, etc.
Are memory foam mattresses vegan?
Yes! Because memory foam mattresses do not contain any animal derived ingredients, they are considered vegan by most people's standards. However, memory foam is not a highly sustainable or eco friendly option.
I've seen some confusion out there, with some saying memory foam is not vegan because it contains chemicals. So let's not confuse "vegan" with "eco-friendly." Something can be harmful to the environment but safe for animals.
I know it sounds counterintuitive because if it's bad for the environment, it's technically bad for all living things, right? But believe me when I say–and this is the thing that I struggle with a LOT from a moral and sustainable standpoint–the two terms don't always go hand in hand.
What are the best vegan mattresses available?
Avocado Vegan Mattress
Avocado mattresses are at the top of the list for a number of reasons. The brand itself uses ethically sourced, non toxic materials in all their mattresses, even the non vegan ones. But this particular option combines the best of both worlds: being vegan, non-toxic, sustainable, and eco-friendly.
Avocado is a Climate Neutral Certified company, and their mattresses have won awards from Forbes, Consumer Reports, US News, and the list goes on.
Vegan Mattress Features
Hand-tufted vegan hybrid mattress
Vegan Certified & PETA approved
GOLS Organic Certified Latex
GOTS Certified Organic cotton
Contains NO polyurethane foam or chemical fire retardants
Standard or pillowtop available
Heavy duty side handles for easy moving
Handmade in the USA
Free shipping
1-year trial
25-year warranty
Financing available
Price range: $1,399-$2,599 (Pillowtop, add $600)
Certifications: GOTS, GOLS, MadeSafe, Greenguard, FSC, Vegan, & Climate Neutral
Firmness rating: 7/10 (Pillowtop, 6/10)
What reviewers are saying:
"As a Doctor of Chiropractic, I specialize in posture and chronic myofascial issues and this bed will be prescribed to my patients to properly hold the correction from the treatment that was provided." ~ Dan M.
"Has to be the very best mattress out there! (…) My backaches disappeared almost immediately. I'm 80 and deserve a quality sleep every single night." ~Douglas D.
"Dope vegan mattress. Pillow top is divine." ~Sofia P.
"Not only has this mattress been very comfortable, but an unexpected outcome is we are have noticed much less sinus congestion when we awake in the mornings!" ~Toni K.
________________
Some complaints I noticed were difficulty getting ahold of someone in customer service, and a few delivery issues, but aside from that, Avocado is an outstanding company with a great reputation for comfortable mattresses that can't be beat.
Don't forget to look into an organic cotton duvet cover and mattress protectors for your Avocado mattress.
Side Note: The Avocado Green Mattress made Consumer Reports' #1 recommendation among all mattresses in 2022.
Plushbeds Natural Bliss Vegan Mattress
The Plushbeds Natural Bliss Mattress is a popular choice among those who want a solid night of sleep on a comfy mattress that's free of harmful chemicals and animal byproducts.
A variety of sizes, thickness, and firmness are available, but the standard sizes (twin-split California King) are available in a range of medium firm (7/10) – extra firm (8.5-10).
The medium firm mattress is ideal for side and back sleepers, and the higher firmness rating is suitable for those over 275 lbs and who sleep on their backs or stomachs.
A bonus feature is that you can call and order a custom firmness for the Natural Bliss Mattress if you want something softer or harder.
Vegan Mattress Features
Made in the USA
100% natural latex, free of synthetics and chemicals
Plant-based fire barrier
GOTS certified organic cotton
Greenguard Gold Certified
Hypoallergenic
Free shipping
100-night trial
Lifetime warranty
Price range: $1,549-$3,798
Certifications: GOTS, Greenguard Gold, ecoINSTITUT, FSC
Firmness rating: 7/10-8.5/10
What reviewers are saying:
"I would highly recommend Plush Beds to those interested in a natural, healthy, and comfortable sleeping arrangement." ~Stefan A.
"super comfy!" ~ Michael L.
"This is by far the best mattress we've ever had. It is soft, yet provides perfect support. We got if for our son's bed, and we love it so much that we think of buying one for us too." ~ Yael W.
____________
Brentwood Home Crystal Cove Mattress
Brentwood Home has been around for over 30 years, and the Crystal Cove mattress is a top vegan option for those who want a flippable mattress that's comfortable and cozy to sleep on.
One side has an activated charcoal infused memory foam mattress with a firmness rating of 4.5/10, making it pretty soft. The other side is organic dunlop latex with a higher firmness rating of 6.5/10. Pocketed coils within add to the supportive structure of the mattress.
And the gray stitched mattress cover is a really pretty addition and adds to the comfort and breathability.
Brentwood Home's Crystal Cove
Vegan Mattress Features
Made in the USA
Dual sided, flippable vegan mattress
Sustainably farmed natural latex
Handles on the side for easy transport
1-year trial
25-year warranty
Free shipping
Financing available
Price range: $1,149-$2,398
Certifications: Greenguard Gold Certified, ecoINSTITUT, Vegan Certified by Vegan Action.
Firmness rating: 4.5/10-6.5/10
Vegan Cocosupport Vegan Chemical Free Mattress
If you're looking for a futon mattress, or one that doesn't necessarily need a set of box springs, this is a great, affordable find from The Futon Shop.
This online store specializes in chemical free furniture. Based out of California, they only work with local farmers and locally sourced materials. Because this particular mattress is on the firm side, it's not best for the side sleeper, but it is highly eco friendly and vegan, and with a starting price of $985, it's on my list of one of the best.
Don't forget to look into an organic cotton blanket to keep you extra cozy at night.
Vegan Mattress Features
100% free of chemicals and flame retardants
GOTS certified organic cotton
GOLS and OEKO-TEX 100 Certified Coconut Coir
All natural dunlop latex materials
Breathable and durable
Casing is hand-stitched
Sustainable and recyclable
30-day trial
Certifications: GOTS, GOLS, OEKO-TEX
Price range: $985.24-$1,190.24
One con with this particular option is the lower "life expectancy" than other vegan mattresses listed above. The average life span is 10-15 years. I also didn't find anything that stated they were certified vegan, so if that's important to you it's something to consider.
Final Thoughts on Vegan Mattresses
This is not an exhaustive list as I will be adding to this post as I conduct more research. But I do hope you've found some good options here. Remember that just because a mattress is marketed as "vegan" does not necessarily mean it's made with earth friendly materials. I do my best to look for both, but it's not always possible to find an overlap. Ultimately, you have to decide what's more important to you and your family.
Thanks for stopping by!