How to Go Vegan for Beginners – 14 Powerful Tips from an Experienced Vegan
Making the decision to go vegan is a big one. I remember quite well what pushed me to make that choice ~ and the challenges I faced along the way. While most people start out excited about making positive changes, it's easy to get overwhelmed and possibly a little anxious with the many thoughts you may have, like…
"Can I live without cheese?"
"What will my friends and family think?"
"Will I become the brunt of everyone's jokes?"
If these are running through your head, trust me, I've been there, and I feel you. That's why in this guide on how to go vegan for beginners, you'll get a good idea of what to do, what to expect along the way, whether you CAN live without cheese, and how to answer the dreaded questions friends, family, and even strangers may toss your way.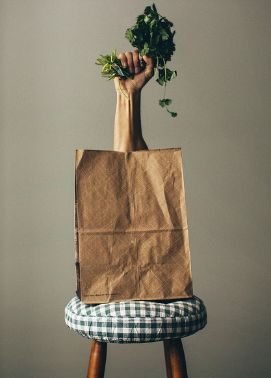 This post might contain affiliate links, which means I may get a commission, at no additional cost to you, if you decide to purchase from one of the recommended companies or products. Please read the full disclosure for more information.
What are the best vegan for beginners tips to ensure success?
Tip #1 – Vegan Lifestyle vs Vegan Diet – Learn the Difference
Not long after going vegan, my mom asked how my diet was going. I told her it was going well, then tried to explain as best I could how my entire perspective had changed on how I viewed the world and my place in it.
It's hard to explain to others that being vegan isn't just a diet; it's a lifestyle. You're not just eating vegan food, you're avoiding animal products altogether, even those that aren't edible.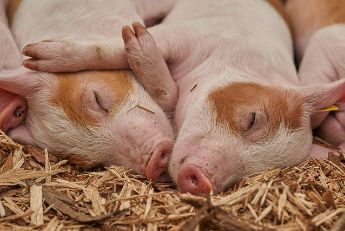 So while having a vegan diet is part of the lifestyle, a lot of people who go vegan (and actually stay vegan) don't do it to lose weight or to be healthier. Sure, that might be your initial motivation, and there are different types of vegans, but long-term, I would say that a vast majority of vegans want to end harm caused to animals.
Side note: there are groups of people who live the lifestyle because they care about the planet. These are known as environmental vegans, and their primary motivation is to reduce greenhouse gas emissions, cut down on pollution that comes from factory farming, and minimize deforestation.
If you only care about eating healthy and don't want to give up certain other things that aren't vegan, then you may want to consider a plant-based diet, which consists of eating vegan food but pretty much stops there.
People who choose the vegan lifestyle go the extra mile by avoiding leather, silk, down feather pillows, cosmetics that are tested on animals or that have animal byproducts in them, and so on.
Also, as a vegan, you will probably avoid zoos and may even boycott anything with palm oil because of the mass destruction it does, not only to rain forests but to the endangered species and wildlife that survive and thrive within rain forests.
Some people lose friends and family after choosing the vegan lifestyle because they simply don't understand. I would hope that most family members would support you no matter what you eat or don't eat, but I've heard more than my fair share of stories over friendships, and even romantic relationships, suffering as a result of someone making the switch to a more compassionate lifestyle.
Tip #2 – Take Your Time Going Vegan if Needed
I won't say that going vegan overnight is a recipe for failure like some people claim. But you do need to be prepared to step it back if needed. Depending on what's motivating you to go vegan (animals, health, the environment, etc.), you may get frustrated, or you could feel alone. You might even feel a little run down depending on how you were eating before, your body's metabolism, etc.
Start with cooking 1-2 vegan meals a week so you're not having to do it all at once. Vegan cooking is very different from meat based cooking, particularly baking. You're not going to become a master at prepping vegan food in a few days or even a few weeks. It might take several months or longer to master vegan recipes or find some that you like.
I started out using a vegan cookbook and found that most of the recipes were very labor intensive. And even though they were delicious, I made the assumption that vegan cooking was hard.
It's not. I was just using a more advanced cooking style than what I was used to.
Again, take your time and don't rush. Mastering the vegan diet is a marathon, not a sprint.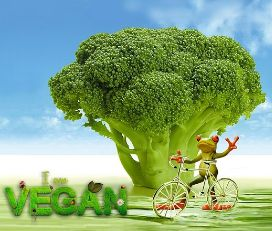 As far as everything else non vegan diet related, again, take your time learning what's vegan and what's not. You don't need to throw out all your leather shoes or clothes, nor do you need to trash your non vegan cosmetics. Honestly, that's just wasteful and doesn't really consider the environment either.
Just keep using them, then transition a little at a time.
If you want to know some good brands, I've written several posts on the following household goods, so be sure to check them out and give them a try. I do my best to factor in affordability for all the brands I recommend, so you can definitely find some that are within your budget.
Tip #3 – Roll with the Emotions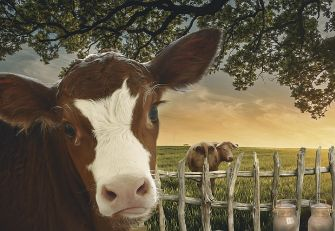 You might face some emotional challenges along the way, particularly in the beginning. And my best advice is just roll with it and ride those emotions like a wave. Don't fight them, or try to deny them. They're a part of who you are as a compassionate being!
For example, it's not uncommon for a lot of new vegans to experience some mild depression or have feelings of sadness and/or isolation. And this happens for a variety of reasons. You may be out with friends and family, watching them throw down on steak and chicken, and the only vegan option at the restaurant is a garden salad with oil and vinegar dressing. That can make you feel alone and frustrated.
Not to mention that once you are vegan, you don't see a delicious cut of meat on a plate, you see what was once a living, breathing being, and it can be hard.
Some new vegans have seen horrific videos of animal cruelty, either on social media or in documentaries. And it's hard to get those visuals out of your head. That was my situation. I gave up meat after watching the documentary What the Health, and I was borderline traumatized by the videos of pigs being electrocuted then boiled alive. There were nights I'd lie in bed, seeing those images over and over, and just cry myself to sleep.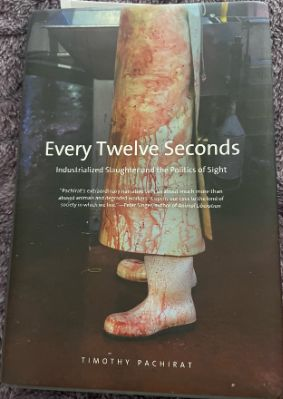 If you can handle reading the book Every 12 Seconds by Timothy Pachirat, I think he goes into this somewhat (if I remember correctly), educating the reader on the high suicide rate among vegans, particularly those who bear witness to these atrocities. It's absolutely heart breaking.
About the book "Every 12 Seconds" … Timothy is a political scientist who worked in a slaughterhouse (partly on the kill floor) for about 5 months, where he witnessed 2,500 cattle being killed per day ~ 1 every 12 seconds. His book sheds light on the slaughter industry as a whole, and how the violent ways in which we are fed are hidden from public view. It's a difficult read, I'm not gonna lie. I only got about 57 pages in before having to quit.
I once read that the difference between vegans and non vegans is that the former see cruelty against animals and cannot turn away from it. From there, it feels like a switch got flipped inside your head, and no matter how much you once loved a perfectly grilled steak or that Saturday morning plateful of bacon, it loses its appeal.
My point being … once that switch is flipped, your state of mind, both mental and emotional, is changed for life, and that can bring about some emotional days. Again, just remind yourself that you're doing your part to cut down on violence and cruelty.
Be sure to take care of yourself. Go for walks, spend time with friends, read a book, or watch a comedy. Whatever it takes to get yourself out of a negative headspace. And I promise it'll get better over time.
Tip #4 Learn About Vegan Nutrition
There are so many health benefits to being vegan and eating a plant-based diet. But only if you eat the right plant foods. Because no matter what kind of "diet" you're on, it can be full of junk like sugar and carbs, too much sodium, numerous preservatives, and other ingredients we should typically avoid.
I'm all for moderation, so I don't think you should avoid junk food 100% of the time, but what I want to touch on is that vegan diets tend to be so vastly different from meat based diets, so you need to know what to eat in order to avoid nutrient deficiencies.
Invest in a good book, preferably a paperback or hardback as opposed to an ebook – one that you can sit down with, make notes in, and use on the regular when you don't have access to your phone or tablet.
I recommend Vegan for Life by Virginia Messina and Jack Norris. This book literally saved my life on several occasions when I wasn't feeling well or could tell that something was "off."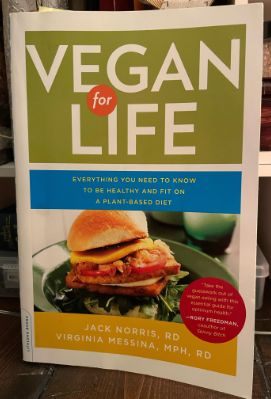 Ginny, one of the co-authors, is a long-time vegan and holds a master's degree in public health nutrition. She does a great job of dispelling a bunch of garbage myths about being vegan – one of which is that humans have evolved to be naturally vegan. This is a popular falsehood that is spread with somewhat good intention, as most vegans just want violence against animals to stop. But it's simply not true.
At our core, we humans are still omnivores, but we know enough about how to get needed nutrients without eating meat that many people can survive and thrive on a vegan diet. However, it's important to learn what foods and food combinations are vital for survival.
You see, animals are given feed that's fortified with vitamins and minerals, and those vitamins end up in their flesh, i.e. the meat that's consumed by us humans. So when we give up that meat, we also lose out on certain vitamins.
Eating only plants also changes the way we absorb certain things like iron and calcium.
I'll give a few examples.
The bioavailability of calcium in dairy foods is about 30%, which means your body absorbs about 30% of calcium from dairy. However, the bioavailability of calcium in greens like kale, collards, broccoli, and turnip greens, can be as high as 50%.
In turn, how much calcium we absorb can be affected by the amount of protein, as well as the type or source of protein, we consume.
Most people know they need iron in their diets, but did you know there are two types of iron?
Heme and nonheme are the two, and meat has both types, but plants only contain nonheme iron. The latter is not as readily absorbed by the body, making it less bioavailable. Therefore, in order to get the amount of iron you need on a vegan diet, you need to eat foods rich in iron and vitamin C at the same meal.
Vitamin C boosts iron absorption, and examples of good plant based foods rich in vitamin C are strawberries, oranges, tomatoes, leafy greens like kale, broccoli, collards, brussels sprouts, and swiss chard, cauliflower, bell peppers, etc.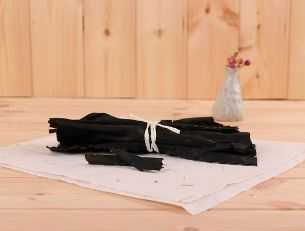 Iron containing foods include spinach, beet and collard greens, swiss chard, oatmeal and bran flakes, prune juice, lentils and most other beans like soybeans and tofu, cashews, kombu and dulse (both sea vegetables).
Pro tip: cooking acidic foods, like tomato sauce, in a cast iron pan can boost your iron intake.
Ironically, most anemic individuals are meat eaters, so those on vegan diets are kind of at an advantage in this area. Go figure.
Try to avoid a lot of processed vegan foods on your vegan diet, and stick with mostly plant based whole foods, grains, greens, beans, and fruits that are different, vibrant colors.
Buy some nutritional yeast (which is rich in B vitamins and trace minerals) and experiment with using it as a popcorn topper or to add a savory, cheesy flavor to casseroles or quiche like this yummy recipe here. The picture on Michelle's blog really does not do this recipe justice, and I use broccoli instead of zucchini, but this dish introduced nutritional yeast to me and I've been in love ever since.
Just have fun experimenting with different vegan recipes that contain a variety of food and ingredients you like.
Tip #5 Make Sure to Supplement
You may already be taking vitamins or supplements, but there are a few specific ones that vegans need to be aware of.
One is vitamin B12. This is a vitamin that actually comes from bacteria. Animals (the non-human variety) get it by eating grass and other things that are covered in this bacteria. During prehistoric times, humans got it the same way – by foraging and eating animal flesh.
Because we're a civilized society that washes our produce, it's unlikely we get B12 this way. But non vegans get it from the meat and dairy they consume.
If you're vegetarian or vegan, you should eat foods that are fortified with this vitamin like soy milk and nutritional yeast, but even so, you run the risk of being deficient. The daily recommended amount is 2.4 micrograms.
Other supplements to consider are vitamin D, iron, Omega-3 fatty acids, iodine, calcium, and zinc. I do not recommend rushing out and buying all these supplements, but it's important to mention them because most people get them from dairy, fish, and red meat.
Which leads me back to why it's important to educate yourself on nutrition so you have some idea of how many of these nutrients you're getting on a daily basis.
I currently take a vegan DHA/EPA supplement several days a week and B12 daily. The Omega-3 a low dose capsule, and I only take 1/2 serving. But that's catered to my particular diet.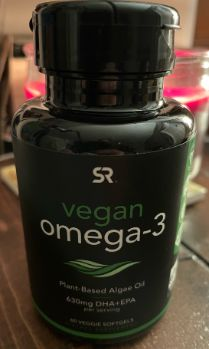 I recommend doing some research and talking with your doctor if you're unsure about your dietary needs. You can have bloodwork done to see if you're low on anything in particular. And I definitely recommend having a panel done before going vegan to check your cholesterol, iron levels, etc., then maybe after 6 months or so to see where you're at.
Of course this comes with the caveat that the doctor you see needs to be vegan friendly as not all doctors are, sadly. But again, they are out there, so have some patience and ask around if needed.
Disclaimer: the above information is not meant to be medical advice since I am not a doctor. Please speak with a professional before beginning any new supplement or vitamin if you have special health needs or concerns.
Tip #6 Learn the Common Foods You Think Are Vegan but Aren't
When I first went vegan, I was stunned to learn certain foods contained animal products. I've compiled a quick list here so you know what isn't when you go grocery shopping or are out and about.
Worcestershire sauce – contains anchovies, but some brands are vegan
Veggie cheeses (look for casein or whey – a dairy derived ingredient)
Gummy bears – contain gelatin which comes from cows, horses, or pigs
Marshmallows – also have gelatin
Miso soup – may contain animal based broth
"Non dairy" creamers – often contain casein or whey
Pasta – could have eggs
Food coloring and dyes – often made from insects
Most candy – look for ingredients like gelatin, confectioner's glaze (comes from insects), cochineal, whey, milk, eggs, or casein
Refried beans – generally have lard from pigs
White table sugar – could have bone char
Wines and liquors – many are processed using casein, albumin (egg based), or fish bladder
Vanilla flavoring – while highly unlikely, it's possible to contain liquid from the castor sacs of beavers (apparently this ingredient, known as castoreum, is very hard to extract and is more commonly used in perfumes)
Vegetable soup – often uses a chicken or beef base in restaurants.
Plant based meats – be sure to read the ingredients when buying as many brands still use eggs or dairy
This is not an exhaustive list, but it does contain the more common foods to be aware of.
Start reading the labels of everything you buy, and get yourself acquainted with spotting non-vegan ingredients like whey, casein, albumin, lactic acid (only vegan if it comes from beet sugar or cornstarch), castoreum, lanolin, beeswax, gelatin, confectioner's glaze, lecithin, lactose, glycerin (is sometimes specified as "vegetable glycerin," which is vegan), and collagen.
Tip #7 Get Ya Some Good Vegan Food Substitutes
Oh man, I don't even know where to start here. There are so many good vegan food substitutes out there.
One of my favorite vegan options – and yes, it is among the processed foods – has to be the Impossible Burger. And it's funny because before giving up meat in 2017 I wasn't even a huge fan of burgers in general. They're just that good.
But here's a quick list of some brands to check out, most of which can be found in grocery store.
Vegan Cheese
Miyoko's, Violife, SO Delicious cream cheese, Follow Your Heart, and Babybel. My favorites are Miyoko's and Violife, and these are the brands for those who don't think they can give up cheese. Give these a try and I bet you change your mind.
Vegan Poultry
Daring, Gardein, Morningstar Farms, 365 (Whole Foods Brand), SweetEarth, Beyond Meat, Trader Joe's Mandarin Orange Morsels, Lightlife, Sol Cuisine, and so many more plant based chimkin (me and my daughter's word for chicken).
Vegan Pork
It's my personal feeling that pork has a unique texture that's harder to mimic, and most vegans are happy about that, myself included. I was never a fan of pork chops or tenderloin, but I did love bacon. And if you want a bangin' recipe for vegan bacon, here's one I got from TikTok a few years back. I'll try to link to the source if I can find it.
Vegan Bacon Recipe
Preheat oven to 400 degrees
Cut Rice Paper (for spring rolls) into strips
Make the Sauce:
2 Tbsp oil
3 Tbsp soy sauce
3 Tbsp nutritional yeast
1/2 tsp liquid smoke
1/2 tsp maple syrup
pinch of salt & pepper
Stir the sauce with a whisk until fully combined.
Dip strips in water, then dip in sauce, covering both sides completely.
Lay on parchment paper and bake at 400 degrees for 7-9 minutes, watching very closely for burning.
Jackfruit is another common pork substitute, and while I'm not a huge fan of this fruit, I do get why people like it.
Jackfruit shreds very similar to the way cooked chicken and pork does, and it's is relatively neutral in flavor until sauce is added. A lot of people use it for vegan BBQ.
There's also Barvecue Naked BVQ, and I tried it once and thought it was pretty tasty.
Vegan Beef
Beyond Beef, Gardein, Impossible, Lightlife, Loma, No Evil Foods, Plant Provisions, and so many more. You can also get seitan, tempeh, and use beans and mushrooms as vegan meat substitutes.
Vegan Yogurt
So Delicious and Silk are the two most well known brands, and while they are good, IMO they don't hold a candle to Siggi's.
Siggi's plant based yogurt, especially the vanilla and cinnamon, is the best!
Other dairy free brands include Oui, Kite Hill, and Oatley. Be sure to shop around because vegan yogurt is one of those things that can be harder to find and you may have to shop at a specialty or high-end store to discover a brand you like.
Vegan Milk
They're all a little different as far as flavor goes, and what kind you choose will depend upon what you're using it for.
Soy milk is rich and creamy, as is hemp and pea milk. And those three are probably the highest in protein.
There's also coconut, almond, pea, oat, hazelnut, and cashew.
The most neutral in flavor, in my opinion, is almond milk, and it seems to go well with cereals, coffee, and even in baking.
Tip #8 Grab a Few Good Vegan Cookbooks
Finding a good cookbook will make all the difference in the world when transitioning to a vegan lifestyle. Here are the ones I've used and recommend along with some others that have received high praise from others.
Vegan Comfort Classics by Lauren Toyota (great for the true lover of comfort food, but most of the dishes are labor intensive and need to be halved unless you're feeding a huge party)
Bad Manners – Eat Like You Give a F*ck by Michelle Davis and Matt Holloway (originally Thug Kitchen; some of the recipes are labor intensive; lots of spicy dishes; rampant with bad language so if you're easily offended, skip this one)
Healthier Steps by Michelle Blackwood (all recipes are gluten free but Michelle has TONS of easy recipes and everything I've made of hers has been delicious; book contains a variety of cuisines but she does tend to focus on ethnic cuisine like Caribbean, Jamaican, etc.)
Artisan Vegan Cheese by Miyoki Schinner. If you want to dive deep into making your own vegan cheese, this is the book. And tbh, it is the book for those who find it hard to give up cheese. Prepare to have to invest in some supplies but they're worth it.
I've purchased a few other vegan gluten free cookbooks that weren't that great (back when I thought I had a gluten intolerance), but the following cookbooks have gotten stellar reviews on Amazon:
Simple and Delicious Vegan by Michelle Vais
Eat Plants, B*tch by Pinky Cole
The Korean Vegan Cookbook by Joanne Lee Molinaro
15-Minute Vegan Meals by Janet Gronnow
Forks Over Knives
The First Mess Cookbook by Laura Wright
Tip #9 Dog ear some websites with good vegan recipes and lifestyle tips
I recommend doing your own digging for this, but I'll arm you with a few websites that are not only popular with lots of vegans, but I can personally vouch for their delicious recipes and/or lifestyle tips:
There are so many more but I think those are a good start.
Tip #10 Line Up a Good Support Network
It can be challenging for some to go vegan alone. For others, it's no big deal, but either way, I suggest getting some good support.
The Meetup app is great for finding groups of others with a shared interest. It's where I discovered a group of people who met regularly for lunches and had monthly potlucks.
There are also Facebook groups, whether you're looking for something local or worldwide.
Tip #11 Hide Some Good Rebuttals in Your Pocket
You'll here all sorts of things from friends and even strangers online when you go vegan. Here are some faslehoods people will toss your way, followed by good responses.
"We're at the top of the food chain."
Umm, no we're not. According to scientists, humans are in the middle of the food chain, somewhere between pigs and anchovies.
Apex predators are at the top. These are animals like killer whales, polar bears, and crocodiles, that do NOT face any threats from other predators. They have claws, fangs, beaks, and/or poison. My friends, we humans have NONE of those.
Many scientists argue that humans were once at the top of the food chain until about 12,000 years ago when the ice age took out the woolly mammoth.
"We literally have canines for ripping meat apart."
LOLS. M'kay. If that's the case then why do our teeth more closely resemble that of an herbivore? Our teeth don't look anything like that of a tigers, panthers, lions, etc., which are true carnivores.
"Humans have evolved to eat meat."
Yup! 100% correct. HOWEVER, we have enough information now about nutrition that many people can get the nutrients they need from plant based foods.
"We need meat to survive."
We need nutrients to survive. Not necessarily meat. Now, I will agree that some people are unable to extract what they need from a plant based diet, but that's not the case for the vast majority of people. So applying this argument to everyone is an overgeneralization.
"Animals would overpopulate the earth if we didn't eat them."
I personally love this one because the perfect reply is "Humans are animals."
And let's be real. Humans are overpopulating the earth more than any other animal.
(Except maybe mosquitoes and worms).
In fact, humans are displacing wildlife. So I don't even want to hear this dumbass reason that some use as a justification for killing animals and eating them.
Also, the only reason there are lots of cows, pigs, chickens, and every other animal that's killed for meat is literally because we are breeding them to eat them.
Even if the entire world went vegan, it wouldn't happen in a day, so this argument simply does not make any sense whatsoever.
And of course there's the ever-famous "Where do you get your protein?"
You get your protein from plants. Full stop.
Beans, chickpeas, lentils, oats, peas, quinoa, broccoli, tempeh, tofu, & soy milk, are all rich in protein.
Tip #12 Develop Thick Skin – Cause You're Gonna Need It
I hate to say it but vegans are the brunt of many jokes, and most of them are not meant to be funny. They're meant to be cruel and put you down.
But understand that it's all due to a little thing called cognitive dissonance.
This is defined as the psychological stress one feels when they hold certain beliefs or values that conflict with their behavior, and they need to find a way to justify their actions.
An example of this is when someone claims they are all about protecting the environment then run out and buy a gas guzzling truck, getting defensive and proclaiming they need it for their job.
Or, when someone claims to love animals but becomes combative when confronted with why they eat them, saying that animals were "put here for us to eat," or – and this is my favorite – "I get my meat/cheese from my friend who owns a farm, and all their animals are treated humanely, from the way they're raised to the way they're killed."
You wouldn't believe how many people say this, but if you go vegan, you'll notice it a LOT.
And look, I don't doubt that somebody somewhere has a friend who owns a farm and all the animals are treated humanely, but I can promise you that no cow, pig, or chicken willingly walks up to the chopping block to sacrifice their life.
Anyway, I digress. You don't have to confront anyone if and when you decide to go vegan. In fact, I recommend you don't. You can simply enjoy your new lifestyle and mind your business. There's already enough hate and combative behavior in this world.
But keep in mind that not all non-vegans will mind their business about what you're eating and they might try to make you feel bad, or like you're coming off as a 'holier than thou.'
Just keep doing what you're doing and ignore anyone who tries to put you down.
Tip #13 Pay Attention to Your Body
If you're not feeling well, or you're getting sick a lot, please … pay attention to your body. It's trying to tell you something.
If you're craving a certain food, figure out what nutrients that food is rich in, and find a vegan alternative that will provide you with those nutrients if possible.
Within a few months of going vegan, I felt really rundown, like I had the flu. I thought I wasn't getting enough protein, and I probably wasn't. But the main culprit turned out to be iron.
It took nearly a week to figure out that's what was going on with me, but you do need to be in tune with your body, and don't ignore the warning signs if you're not getting what you need from a vegan diet.
Consult with a nutritionist or other professional if you can and see if they have any advice.
Tip #14 Don't Feel Guilty
Whether due to desires of the palate or health complications, if you end up eating meat or some other animal based protein like eggs or cheese, don't feel guilty, and please, don't beat yourself up. At the end of the day, being vegan is not a hill anyone needs to die on.
You're not a bad person if you give in and eat meat, even if it's something you do every once in a while for your health. Don't let anyone tell you "you were never vegan to begin with" or that you must not truly love animals after all. I'm really sick of all the hate and judgment out there, and everyone's experience with going vegan, and their motivations for doing so, is different.
As far as my experience being vegan, I won't go into all the details in this post as to why it didn't work for me, but suffice it to say it was completely due to physical health reasons – not because I craved meat. I was, however, craving eggs and cheese like crazy!
In the end, I ignored my body for too long, and as a result, lost so much weight that my family (and I) became concerned. I was also experiencing brain fog that had me concerned.
I was eating beans every single day. And beans are believed to be an inflammatory food. I believe my body was having a reaction to them. I was experiencing weird stomach symptoms for over a year that went away IMMEDIATELY upon giving up beans and eating meat.
Emotionally, it was so hard to give up my vegan diet. I experienced a lot of guilt over it, and it took a while for me to mentally adjust.
However, it was nice to no longer have stomach problems too.
I've only been eating meat again for about 6 months. And most days I'm vegetarian or pescatarian.
And, if I'm being fully transparent here, I believe I felt my absolute best when I was on a vegetarian (occasionally pescatarian) diet.
I will say that while I can tell you how to go vegan, and I can go into all the health benefits of a vegan diet, I can't tell you how to stay vegan because only you will figure that out over time.
I know there are plenty of people who are vegan their whole lives without any issues. But everyone's needs, metabolism, and food tolerances are different. So it's my opinion that not everyone will be able to sustain a vegan diet forever.
Find what works for you. Love yourself, take care of yourself, and even if all you end up doing is giving up meat a few days a week, know that you are making a hugely positive difference for the animals.